What is
Tooth Replacement?
Tooth loss happens for a variety of reasons including genetic predisposition, malnutrition and poor diet, dental disease, injury and damage.  Clearly, missing teeth - especially those in the front of the mouth that are most visible - have an aesthetic impact and can result in everything from insecurity and social inhibition to depression.  A beautiful smile is the gold standard in this country, and it is difficult to go through day to day life with a "deformity" that is so visible.
Tooth loss; however, has other ramifications.  The loss of even one tooth can have a dramatic effect on dental health overall.  Those teeth that surround the space created by a missing tooth are now exposed, are more vulnerable to decay themselves, and may shift to compensate for the space.  In addition, chewing is compromised and bite can be impacted which can easily result in jaw misalignment and subsequent neuromuscular conditions.
For all these reasons, tooth replacement is absolutely necessary for the overall health of the mouth and is most certainly desired by those who wish to improve their smile.
At Grieshober Dental, we provide ongoing care and maintenance to foster a lifetime of dental health.  While the examination and cleaning of the teeth, mouth and gums helps to prevent many issues, it is sometimes necessary to intercede with a more involved dental treatment plan to help achieve the best result.  When looking for a dentist, Enid, Oklahoma patients, as well as those throughout the state, turn to Grieshober Dental, where they know they will receive the expertise and caring treatment they deserve.
Our practice uses state-of-the-art restorative and cosmetic technology to address the particular dental needs of each of our patients, helping them safely, comfortably, and effectively improve their health.…and their smile.
The method for tooth replacement will be discussed with your dentist.  Ultimately, the choice will be made based on your particular situation and goals.
We invite you to visit our office and see for yourself why Grieshober Dental has become the Oklahoma dental practice that patients turn to for all their dental needs.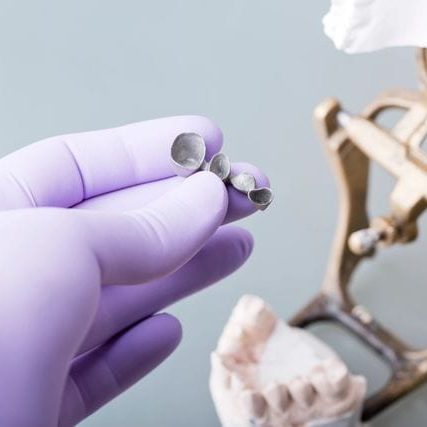 There are a variety of options when it comes to tooth replacement including:
Dental Bridge
Replacement Crowns
Dentures
Tooth Replacement Options
In the instance where a tooth cavity becomes large and aggressive, it may warrant more than a traditional filling.  A cavity of this size may pose a threat to the health - and even the life - of the tooth itself; and in this case, the dentist may choose to encapsulate the tooth with a crown.  Made from a variety of materials, a crown is constructed from a dental mold taken of the tooth so that it is the perfect fit.  The finished crown fits around the tooth and is bonded in place with dental cement.  The dentist may also recommend a crown as part of dental implants that replace teeth that have been lost or removed; or in the instances where the aesthetic of a particular tooth is in question.
Consisting of a thinly layered material, veneers fit entirely over the surface of a tooth: they are typically used for aesthetic purposes but are also quite commonly used as a protective layer over a compromised tooth.  Veneers are typically made from either dental porcelain or composite materials and bonded to the tooth with a resin cement.
This this thin layer of material provides protection for a tooth that has experienced surface damage, thus preventing further erosion.  In terms of an aesthetic choice, veneers have offered another option - besides crowns and other cosmetic procedures - to patients who want a solution for a discolored tooth or to close the appearance of spaces with the use of multiple veneers.
A dental bridge, as its name suggests, is put in place to replace missing teeth; a common alternative to dental implants and partial dentures. There are a variety of dental bridges and the type and material of the bridge that the dentist chooses will depend on the location of where the bridge will be placed and your particular dental health and needs.  Once a bridge is put in place, in the area that covers the missing teeth, crowns are cemented to the bridge for a natural look and comfortable bite.
The need for a bridge is about much more than aesthetics.  Missing teeth - even just one – affects the bite and can subsequently impact the alignment of the jaw.  Of course, jaw misalignment can be the catalyst for a host of problems including increased risk of periodontal disease, headaches, and temporomandibular joint disorder (TMJ) - along with the variety of symptoms that TMJ can produce.
A well-placed bridge can protect the rest of the teeth, support proper jaw alignment and promote overall dental health.
We invite you to visit our office and see for yourself why Grieshober Dental has become the Oklahoma dental practice that patients turn to for all their dental needs.