What is
Neuromuscular Dentistry?
Neuromuscular dentistry is the science of finding your relaxed jaw position, your true correct bite, and then using individualized treatments to make this bite permanent.  An unbalanced bite, where the upper and lower jaws meet, can result in many uncomfortable symptoms including grinding your teeth at night, clenching your teeth during the day, sore jaws, head and neck pain, pops or clicks in your jaw joints, or worn, broken and sensitive teeth.  Temporomandibular Joint Disorder, also referred to as TMD or TMJ, affects many people's quality of life and often presents itself through symptoms such as these.  People suffering from chronic head, neck, and shoulder pain do not realize the source may actually be related to TMD and accept their pain as part of everyday life.  If you suffer from any of the above symptoms and rely on over the counter or prescription pain medications, you owe it to yourself to let the team at Grieshober Dental provide a complementary neuromuscular evaluation of your bite.  You will be surprised how these symptoms are often referred from a TM disorder.
Neuromuscular dentistry is not taught in dental schools.  It is postgraduate continuing education taught at Las Vegas Institute for Advanced Dental Studies (LVI).  Less than 1% of dentists pursue this fascinating field of neuromuscular dentistry.  This is where Dr. Grieshober has received his training, and continues to receive training, in neuromuscular and aesthetic dentistry.
Dr. Grieshober and his team use sophisticated computer analysis to track jaw movement.  Electromyography (EMG) is used to track jaw muscle activity and Electrosonograph (ESG) to record TMJ sound.  From this information a true neuromuscular diagnosis and treatment plan is made.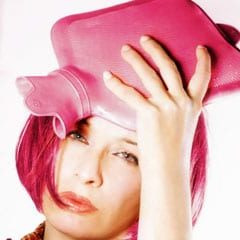 TMD treatment may include:
TENS electrical stimulation
Neuromuscular orthodontics
Physical Therapy
Oral appliances
Cosmetic dentistry
Reconstructive dentistry
Many symptoms are associated with a neuromuscular disorder.  They can range from no symptoms to mild and severe symptoms.  It is important to have an experienced neuromuscular dentist evaluate your symptoms as many people are not aware of the link between their symptoms and TMD-TMJ.  Dr. Grieshober has the neuromuscular dentistry training needed to diagnose and treat this condition.  If you are experiencing any of the symptoms listed below, you owe it to yourself to have the team at Grieshober Dental provide a complimentary neuromuscular evaluation.
Symptoms of TMD-TMJ include but are not limited to:
Headaches and migraines
Neck stiffness and pain
Jaw soreness and pain
Facial pain
Forehead pain
Sinus-like headaches
Cluster headaches
Scalp tenderness
Mouth, face, chin or cheek pain
Tongue pain
Dizziness or vertigo
Clicking and/or popping of the jaw joint
Premature tooth wear
Teeth clinching
Teeth grinding
Tooth sensitivity
Tooth pain
Tooth mobility or tooth loss
Relapse after orthodontic treatment
Pain or limited opening of the jaw
Locking of the jaw
Uneven alignment of the upper and lower jaw when it is closed
Ear problems or soreness
Ringing, hissing, or buzzing in ears
Clogged, stuffy ears
Hearing loss
Swallowing difficulties
Tightness in the throat
Sore throat
Neck or shoulder pain
Tingling or numbness in arms or hands
Back pain